Few things have been as ubiquitous over the years as stickers. You probably can't step out in public without seeing one (or seven) slapped on a bumper, laptop, toolbox, or a water bottle that doubles as a rolling pin.

Stickers put the fun in functional marketing and turn otherwise everyday items into mosaics of messaging. Which got us thinking: what if we owned every single sticker on that mosaic? We'd be able to share information in an easy and enjoyable format.

That's exactly what we did for this year's campaign for the UNR 365 Learning's Summer Session program. 365 Learning is the year-round online learning division of the University of Nevada, Reno's class offerings. They focus on flexible options for students to graduate on their own time, which usually means graduating ahead of time.
Just as in past years, we felt it was our job to create a campaign that makes school feel fun, fresh, and vibrant. Something that makes getting up for 8am summer classes sting a little less (and walking across the stage a semester early feel even better.) The idea of stickers to spread our messaging hit all those notes, so we set out to design and illustrate over 30 stickers to create the campaign.
The stickers do a lot of things. They celebrate summer and all things Northern Nevada. They make academia feel lighthearted and fun. And they only push Summer Session as hard as a simple url on each sticker. You definitely don't have to take a summer class to want a cheeseburger-singing blue jay on your Hydroflask.

Creating multiple designs in the form of the phone, laptop, and water bottle was necessary to fit the various forms of media. The campaign spreads across the campus as posters, print ads, online banners, direct mail, and giveaway items – even the marquee outside of Lawlor Events Center.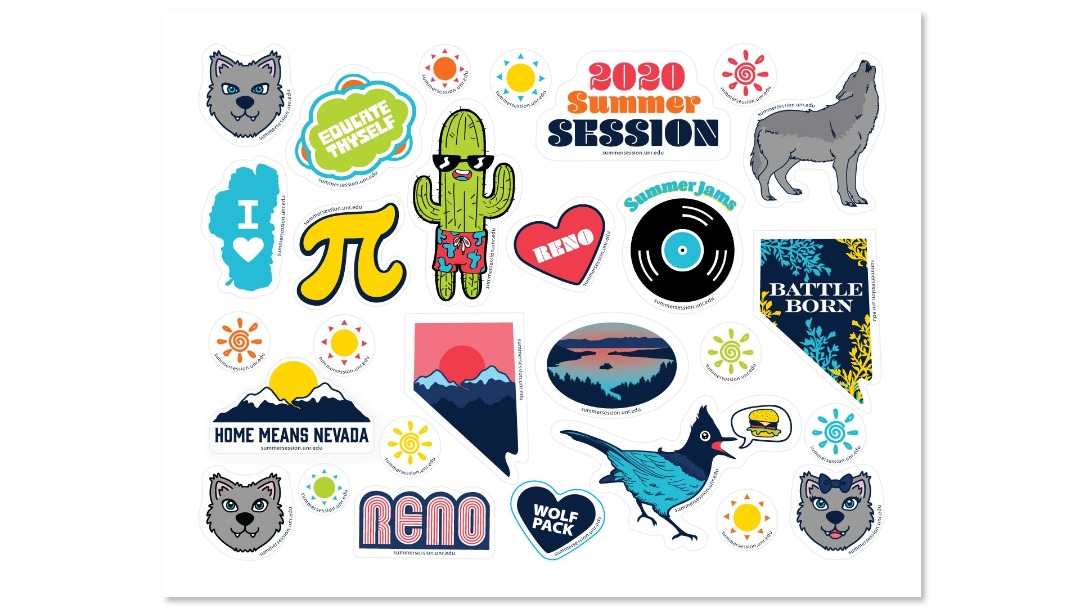 Those giveaway items are a key component of every 365 Learning campaign and this year's Summer Session took it one step further. By printing the campaign designs into physical sticker sheets, students could deck out their personal items with their favorite stickers from the campaign.

With so many stickers to choose from, chances are everyone has a favorite. Which one gets that empty spot on your water bottle you've been saving?